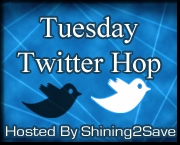 2. Click on the top 5 Twitter Names and follow them: The first one will be me, Shining2Save, and every week I will pick 4 more randomly. (I will list up the comments and pick from random.org). It would be a big plus if you added the Twitter Hop Button to your Page.
3. Follow as many people on Twitter as you like: just make sure you at least do the Top 5. Also be sure to leave comments with your twitter name so they will know where to follow you!
4. If someone follows you from this Linky, PLEASE follow back.
5. You do not have to make a post to join: but it is always a plus if you do so everyone else can see and join in on the fun!
Head over to
Shining2Save
to link up to her Tuesday Twitter Hop! Please be kind and remember to pick up a few if you leave yours! Thanks and enjoy!,